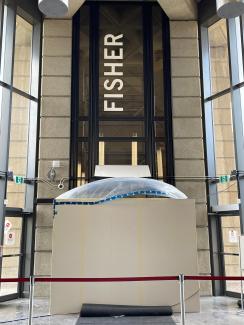 The main doors to the Fisher Library - which houses the University Archives and the Rare Book Department - are currently being replaced to make our building a more welcoming, accessible and secure space.
We estimate that the replacement of the doors will be completed by the end of October or early November, after which the Archives will resume limited reference and research services for the public by appointment. In the interim, Archives staff will still be happy to provide online reference and scanning service as requested.
Please watch this space for updates with regards to our reopening as we know them and thank you for your patience.
Many other libraries at the University of Toronto will be opening in September. Check here for updates on Fall reopening plans.
---
Last updated: Monday, October 4, 2021