The University of Toronto Archives recently published the multi-lingual finding aid for the papers of Prof. Amir Hassanpour, Kurdish-Iranian Marxist scholar and socio-linguist. Within this material is correspondence received from Prof. Omar Sheikhmous, the influential academic, Kurdish political activist, and human rights advocate. Prof. Sheikhmous' own records have been acquired by the University of Exeter and offer not only additional correspondence between the two scholars, but extensive records documenting the history of Kurdish resistance and struggle for self-determination.
Two blogs posts, written by archivist James Downs, explore the collection in depth. The first looks at the development of the Kurdish Democratic Party (KDP), from its founding in Mahabad to its activities in Iraq. Through both original documents and published material in the Omar Sheikhmous Collection, researchers are exposed to the complex relationship between the KDP and other Kurdish political organizations.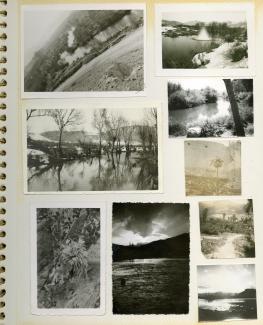 The second post delves into Prof. Sheikhmous' own involvement in the Kurdish revolutionary movement as a founder of and early leader within the Patriotic Union of Kurdistan (PUK). The post also explores other aspects of the archive regarding Prof. Sheikhmous' academic work and advocacy on human rights and the experiences of Kurdish diaspora communities, as well as his role in broadcasting as Service Chief of the Kurdish Service of Voice of America.
The collections of Prof. Sheikhmous and Prof. Hassanpour reflect both scholars' deep investment in the Kurdish revolutionary movement, civil rights, and Kurdish cultural expression. Through their correspondence researchers can see their own history of intellectual exchange particularly surrounding the KDP, Kurdish publishing, and language issues, as well as the shared community of scholars and political figures with whom they were both engaged. The material as a whole represents their overlapping interests and extend the scope of the two collections, each incredibly rich in its own right.
To look at correspondence between Amir Hassanpour and Omar Sheikhmous in the Amir Hassanpour fonds, see B2019-0004/005(32) and B2019-0004/004(04).
For correspondence between the two scholars in the Omar Sheikhmous Collection of Kurdish Research, see files 4/151, 4/176, 4/253, 4/275, 4/276, 4/319, 4/335, 4/451, 4/1320, 4/1341.
---
Posted: Tuesday, August 4, 2020